Professional theater of the Great Western Catskills!
Vicki Kristina Barcelona Band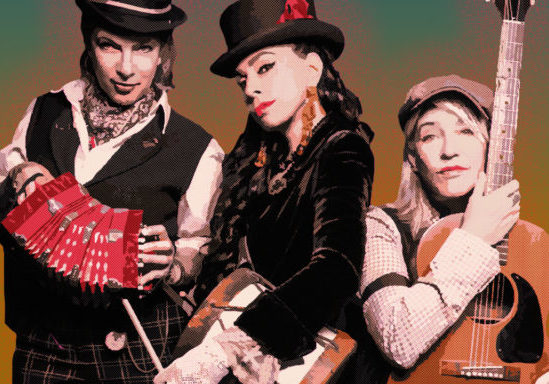 Vicki Kristina Barcelona Band
VickiKristinaBarcelona is Rachelle Garniez, Amanda Homi and Terry Radigan, a power trio of music veterans dedicated to re-imagining the lyrical genius of the Tom Waits songbook via inventive three-part harmonies and a treasure trove of instruments including banjos, bottles, squeezebox, and zills.  They create a  world of sound enveloping audiences in a beautiful and mysterious landscape through abandoned railroad tracks to a secret dance party in the woods.
Each a hybrid story-teller and multi-instrumentalist in her own right, the three join forces to bring their distinct styles together to form a captivating original mix never failing to amaze and delight audiences of all stripes.  Collectively, they have played and recorded with such artists as Jack White, Jackson Browne, Jane Siberry, Patty Loveless, Dan Penn, Ray La Montaigne, Thomas Dolby, and Taylor Mac.
Plunge in and thrill…
—Music Row
VKB…creates music that is at once powerful, playful and poignant.
—Glide Magazine
RACHELLE GARNIEZ is a songwriter, singer, composer, producer, and multi-instrumentalist. Born and raised on New York City's 1970s culturally diverse Upper West Side by an American classical pianist and a European professor of French literature, Rachelle was exposed to a singular multiplicity of rich and multi-layered influences, from utopian collective free-schooling and Austrian Expressionism to the roller disco dancers and congueros of Central Park.
In 1982, at age 17, she left home and spent a year making her way around Europe. After a year, she moved back to New York and was hijacked by an accordion, an instrument that served to connect her with an infinitely expanding motherlode of multi-cultural music. From her first adventures as a street musician and a fixture in the 80s New York boho scene, Rachelle went on to form a band (The Fortunate Few) and has released seven albums under her own name. In addition, Rachelle's songs have been performed and recorded by jazz artist Catherine Russell, pop singer Karen Elson, and Ingrid Lucia (The Flying Neutrinos). Besides her her own work, Rachelle has performed and collaborated with Jack White, Suzzy Roche, Sven Ratzke, Palmyra Delran, Thomas Dolby's TED House Band, beloved bar band Mumbo Gumbo, roots-world ensemble Hazmat Modine, and sonic sorcerer Sxip Shirey. Together with Terry Radigan and Amanda Homi, she is a member of VickiKristinaBarcelona Band, covering the Tom Waits catalog in three-part harmony.
AMANDA HOMI was born in London and has traveled the world, currently making New York City her home. She is a singer, songwriter, percussionist and dancer. Amanda has released two solo albums, "Drumgirls" and "Till i Reach Bombay" and recently co-produced Passing the Torch, a documentary about folkloric Colombian singer Toto La Momposina, a Latin Grammy lifetime achievement award recipient. Sonya Alexander, Examiner.com raved, "La Colombiana is a must-see for anyone who appreciates cultural music and tradition."
Amanda grew up singing as a child and dreaming of travel and has studied dance and percussion in Brazil and Senegal, sung Rembetika in Greece, Gypsy Flamenco in Spain, wrote and recorded Reggae in Jamaica and recently performed her music in Agadir, with Moroccan musicians. She is a sought after studio session singer, recording and performing with artists and songwriters such as Jackson Browne,  Ray Lamontagne, Jane Siberry, Maxwell, Mavis Staples, They Might Be Giants, Michael Brecker, John Pizzarelli, Grover Washington, Jr., Pete Seeger, Toots Thielmans and Toots Hibbert. Amanda is also a featured singer on E-Street Band Member Everett Bradley's Holidelic CD. She has also written and sung on many national commercials and wrote the theme to the popular TV show "Bridezillas". 
TERRY RADIGAN is aGrammy nominated songwriter who mixes her gritty Brooklyn girl sensibility with a deep respect for classic American roots, country and soul. Her solo releases have been oft played & well received. She has had her songs covered by a wide variety of artists and her songs can be heard on big & small screens alike.
Thurs-Sat @7:30 pm
Sunday @5:00 pm
90 minutes with no intermission.
FREE ADMISSION
Franklin Stage Company is an admission-free theater that depends on the generosity of our audience and donors—any amount is appreciated!