Professional theater of the Great Western Catskills!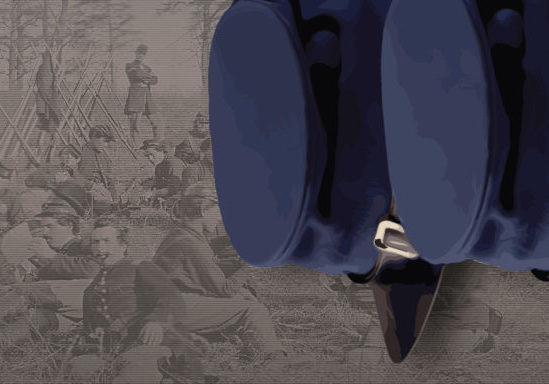 by Kyle Bass
Directed by Vernice Miller
An FSC Production
Originally commissioned by Franklin Stage Company, 2022
Patricia Buckley & Leslie Noble, Co-Artistic Directors
This production was made possible in part by generous gifts from the New York State Council on the Arts, The Community Foundation of South Central NY, and the Tri-M Foundation.
Kyle Bass's intimate new play dramatizes the Civil War experiences of two actual historical characters from two very different (and not so different) backgrounds. Toliver Holmes was a young black man born into slavery in Virginia who escaped to New York, changed his name to avoid capture, and mustered into the Union Army's 26th Regiment of Colored Troops (NY), later settling in Delhi, NY. Sarah Rosetta Wakeman, a young white woman born in Bainbridge, New York, disguised herself as a man and mustered into the Union Army—the 153rd New York State Volunteers—using the alias Lyons Wakeman. A world premiere.
ABOUT THE PLAYWRIGHT
Kyle Bass is also the author of the play Tender Rain, which premiered at Syracuse Stage in May 2023. Salt City Blues which was produced at Syracuse Stage in in 2022, Citizen James, or The Young Man Without a Country, about a young James Baldwin, which was commissioned by Syracuse Stage, has streamed nationally since 2021, and has been optioned for an international feature-length film, and Possessing Harriet, which premiered at Syracuse Stage in 2018, was subsequently produced at Franklin Stage Company, at the East Lynne Theater Company, and is published by Standing Stone Books. His libretto for Libba Cotten: Here This Day, an opera based on the life of American folk music legend Libba Cotten, was commissioned by The Society for New Music. With National Medal of Honor recipient Ping Chong, Kyle is the co-author of Cry for Peace: Voices from the Congo, which premiered at Syracuse Stage and was subsequently produced at La MaMa Experimental Theatre in New York. Kyle also worked with Ping Chong on Tales from The Salt City, which premiered at Syracuse Stage. Kyle is the co-author of the original screenplay for the film Day of Days (Broad Green Pictures, 2017) and is a three-time recipient of the New York Foundation for the Arts Fellowship (for fiction in 1998, for playwriting in 2010, and for screenwriting in 2022), a finalist for the Princess Grace Playwriting Award, and a Pushcart Prize nominee. As dramaturg, Kyle worked with acclaimed visual artist and MacArthur "Genius" Fellow Carrie Mae Weems on her theatre piece Grace Notes: Reflections for Now, and he was the script consultant on Thoughts of a Colored Man, which premiered at Syracuse Stage in 2019 and opened on Broadway in 2021. His plays and other writings have appeared in the journals Callaloo and Stone Canoe, among others, and in the anthology Alchemy of the Word: Writers Talk about Writing. Kyle is an assistant professor in the Department of Theater at Colgate University, where he was the 2019 Burke Endowed Chair for Regional Studies. Previously, he was faculty in the MFA Creative Writing program at Goddard College, taught playwriting in the Department of Drama, and theater and dramatic literature courses in the Department of African American Studies at Syracuse University, and playwriting at Hobart & William Smith Colleges. The Susan P. Stroman Visiting Playwright at the University of Delaware and the Flournoy Visiting Playwright at Washington & Lee University, Kyle holds an MFA in playwriting from Goddard College, is a proud member of the Dramatists Guild of America and is represented by the Barbara Hogenson Agency. A descendant of African people enslaved in colonial New England and in the American South, Kyle lives and writes in central upstate New York where his family has lived free and owned land for nearly 225 years. He thanks Colgate University for the support of his creative research. And he is indebted to his cousin, historian Diane Ciccone, whose research into their family history remains a gift and unceasing source of inspiration.
TOLIVER & WAKEMAN by Kyle Bass
Copyright © 2023 All rights reserved.
Produced by arrangement with Kyle Bass and The Barbara Hogenson Agency, Inc.
KATRINA ALI (Assistant Stage Manager) is a current senior stage management major at Ithaca College. She is incredibly grateful and excited to be working at Franklin Stage Company this summer. Her recent credits include Ithaca College: Hunchback of Notre Dame (ASM), Pirates of Penzance (ASM), Into the Woods (PA). Boston University: Exit the King (PSM), If I Were You (ASM), Passage (ASM), Walking the Tightrope (PA). Hangar Theatre: Nabucco (ASM). As usual, she would like to thank her wonderful mother and father for always supporting her dreams and helping her become the woman she is today.
KEVIN BARTLETT (Sound Design) composes and produces scores for theatre, dance, TV and film. His theatre work includes the "show stealing" score and sound design for the Empire State Youth Theatre's production of "Macbeth". At Albany's Capital Rep, he wrote, produced and performed the score for Toni Morrison's world premiere of "Dreaming Emmett" and the play, "Jupiter and Elsewhere." Kevin also composed music for Circle Rep's production of "Bing and Walker." His music has been used on HBO, MTV, VH-1, American Idol, Comedy Central, Discovery and Sesame Street. His commercial work includes clients such as Motrin, Spalding, MVP Healthcare, MD&A, GE and New York State. Bartlett lives in Franklin, home to his Aural Gratification studio and record label. Current projects include a new Tribe of Heart film score, and an inter-dimensional radio drama and Bartlett's latest album of evocative, inventive rock n' roll.
BRIANNA JOY FORD (Wakeman) Originally from Seattle, Brianna moved to Chicago after receiving her BFA in Acting from Ithaca College and has recently relocated to NYC! She is so pumped to be making her Franklin Stage Company debut with this poignant look at our present and history. Some favorite theatre credits include: My Children! My Africa! (HartBeat Ensemble), Emily in Our Town (Artistry Theater), Alma in Summer and Smoke (The Impostors Theatre), Hero in Much Ado About Nothing (Theatre at Monmouth) and Molly in Peter and the Starcatcher (EDGE Theatre). Many thanks to FSC for bringing this story to life, to the audiences for listening with open hearts, and to Jelani for always being there. briannajoyford.com
SCOTT HOLDREDGE (Set Design/Lighting Design/Technical Direction) is excited to be back with FSC this summer. He is a full time faculty member at SUNY Cortland in NY. He recently returned to Anchorage Opera as projection designer for Missing, a US premiere Opera bringing attention to missing and murdered indigenous women in Canada. As a response to Covid protocols at Franklin Stage Company, he designed and built an indoor and outdoor stage for the 2021 season. His scenic designs for SUNY Cortland have recently included; Cabaret, Seussical, Proof and a new musical workshop production of The Bone Harp with Create Theatre. He has also worked for Cortland Repertory Theatre, Syracuse Opera, Syracuse University, and a few area high school theatres as a set/lighting designer and technical director. Scott's work has been seen in New York City, Los Angeles, Alaska, and San Diego across the genres of theatre, corporate events, theme parks, haunted houses and film.
RILEY ISRAEL (Stage Manager) is a current student at Ithaca College studying stage management. He is beyond excited to be working at Franklin Stage Company this summer! He would like to thank his family, his friends, his partner, and his theater mentors and professors. Credits include: Palmyra-Macedon CSD: Annie (PSM), The Little Mermaid (PSM), Peter Pan (ASM), High School Musical (ASM). The Kitchen Theater: Do You Feel Anger? (PA). The Cherry Artspace: Voice of Ukraine (PSM). Ithaca College: New Play Incubator (SM), Twelfth Night: the Musical (PA), MTD Collaboratory (ASM). Instagram: @riley_israel_03. Facebook: Riley Israel.
VERNICE MILLER (Director) Most recently directed the world premier of Our Verse in Time to Come for Folger Theatre in Washington, DC. She is a Jamaican born, Afro-Caribbean theater artist who is passionate about the arts as the most universally accessible agent for positive social change. Directorial highlights from Miller's career include long-term collaborations with; Pulitzer Prize-winning jazz musician Wynton Marsalis, opera diva Jessye Norman, HBO comedienne Hazelle Goodman and Hip Hop legend Malik Work. International credits: Three Women (Break the Silence) by anthropologist Dr. Omotayo Jolaosho for South Africa's Market Theatre Lab (a performance about women finding their voices amidst gendered repression of their bodily and sexual autonomy); Nomansland (performed/co-directed) with Seth Baumrin's Subpoetics International in Slovenia, Ukraine and Poland. Network television: Shadowed director Felix Alcala on the CBS series Madam Secretary throughout filming of season 6 episode 9 Carpe Diem. Miller directed both the inaugural and revived productions of Bee Trapped Inside the Window by Saviana Stanescu for Heartbeat Ensemble, the Romanian Cultural Institute and Ithaca's Civic Ensemble. Commissioned by Godfrey L. Simmons, Jr. Bee is a work that explores the effect of modern-day slavery on the lives of three ethnically different American women living in CT. She co-founded A Laboratory for Actor Training Experimental Theatre Company with Joann Maria Yarrow, to evolve work they began with Roberta Carreri at Eugenio Barba's Odin Teatret in Denmark, and is thrilled for this collaboration with Kyle Bass and Franklin Stage Company. www.alatetc.org
ZACHARY PAUL (Fiddle Player) is a violinist and composer currently located in New York City. His compositional work explores the boundaries of perception, the invocation of meditative states, and the juxtaposition of stasis and movement within the soundscape. As a performer, Zachary enjoys playing and improvising in a variety of styles, from standard orchestral repertoire to traditional folk music and experimental pop. Zachary has released music on London-based record label Touch and has performed at spaces such as Dorothy Chandler Pavilion, Desert Daze Music Festival, Church of the Heavenly Rest, Roulette Intermedium, and The Stone.
JELANI PITCHER (Toliver) is a NYC-based actor and artist, and is so thrilled to be making his Franklin Stage Company debut! Even more blessed to be a part of this powerful story's journey. Originally from Baton Rouge, LA, Jelani also spent a number of years living and acting in Chicago. He has performed on stages around the country, but some favorite recent credits include: Topdog/Underdog (Fleetwood-Jourdain Theatre), My Children! My Africa! (HartBeat Ensemble), King Lear (Theater at Monmouth), and Jabari Dreams of Freedom (Second National Tour). Many thanks to his brilliant and incredible life partner, Brianna, for her love and energy, and to his awesome family and friends for their continual support. Proud alum of Ithaca College. jelanipitcher.com
EVAN TRUE (Production Manager) spends the colder months as a technical producer and production manager for live events, conferences, festivals and interactive museums. He has worked on the production side with many theater and dance companies including the TEAM, Liz Lerman Dance, and Culture Project and has been a build and strike volunteer at FSC for two seasons. Evan is also an Obie Award winning performer, and has been an ensemble member as well as Tech Director at the Living Theatre and International Wow Company.
LINDSEY QUAY VOORHEES (Costume Design) received her MFA in Costume Design from UNC School of the Arts. Lindsey is currently the resident costume designer at Le Moyne College in Syracuse; credits include 9 to 5, Dr. Jekyll and Mr. Hyde, Heathers: The Musical, The Liar, Pericles, and Master and Margarita (directed by Franklin Stage's very own Leslie Noble.) She also designed costumes for the Syracuse Stage children's tour Miss Electricity, CNY Arts' Christmas ballet Dasher's Magical Gift and Gifford Family Theatre's Corduroy. Lindsey spent several seasons building costumes for Texas Shakespeare Festival and Bard College's Summerscape Festival operas.Portfolio: lindseyquay.weebly.com.
Thursday–Saturday @7:30 pm
Saturday Matinee @3:00 pm
Sunday @5:00 pm
Performance is approximately 90 minutes.
There will be no intermission.
FREE ADMISSION
Franklin Stage Company is an admission-free theater that depends on the generosity of our audience and donors—any amount is appreciated!