Professional theater of the Great Western Catskills!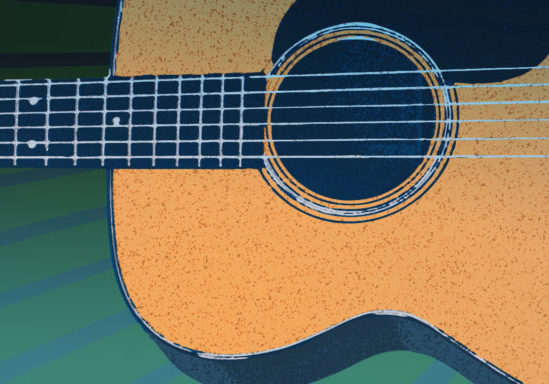 The Life of Blues Icon Libba Cotten
A concert staging of a new opera that tells the life story of iconic guitarist Libba Cotten, a humble, gifted, left-handed singer/songwriter who grew up in the segregated south, played the guitar and banjo upside-down & backwards, and won a Grammy at age 91.
With an operatic score influenced by folk, blues, and gospel by Mark Olivieri, and a libretto by Kyle Bass (Possessing Harriet), this new opera reveals and celebrates the life story of an American original and folk music legend.
When her devoted community comes together to honor her legacy, a poignant afterlife journey of song, drama, and dreams leads Libba back to her roots, family, first guitar, and the spiritual connection between her music and childhood home. A cast of seven transcend time and musical styles to retrace the story of how a little left-handed girl from North Carolina became one of the most original and revered folk musicians and songwriters of her time.
The opera is sung by bass-baritone Gregory Sheppard, soprano Jessica Montgomery, mezzo Danan Tsan, soprano Noa DeRosa Anderson, soprano Jacque Tara Washington and baritone Steven Stull.
This performance is a collaboration with Syracuse's Society for New Music.
CREATIVE TEAM
MARK OLIVIERI (Composer) is a composer whose music is performed throughout the U.S. and abroad in such venues as The Kennedy Center, Carnegie Hall, The Sibelius Academy, Royal Academy of Music in Stockholm, Glinka Concert Hall in St. Petersburg, Russia, and Harpa Concert Hall in Reykjavik, Iceland. Olivieri's compositions are inspired as much by Black Sabbath and Thelonius Monk as they are by traditional concert music. Olivieri earned degrees from Heidelberg College, Ithaca College, and Ph.D from the Univ. at Buffalo.  He is currently working on two very different commissioned compositions — his fourth piano trio for premiere in Brussels, Belgium, and the opera based on the life of "Libba" Cotten for premiere in Syracuse, NY.
KYLE BASS (Librettist) is the author of Possessing Harriet, which premiered at Syracuse Stage in 2018, was produced by Franklin Stage Company in 2019, and will be produced at East Lynne Theater Company in 2022. His new play salt/city/blues premieres at Syracuse Stage in 2022. Citizen James, or The Young Man Without a Country, about a young adult James Baldwin, commissioned by Syracuse Stage, streamed this spring. In addition to being Assistant Professor in the Department of Theater at Colgate University, Kyle is Associate Artistic Director at Syracuse Stage, and was the 2019/20 Susan P. Stroman Visiting Playwright at the University of Delaware. Kyle is two-time recipient of the New York Foundation for the Arts (NYFA) Fellowship (for fiction in 1998, for playwriting in 2010), was a finalist for the Princess Grace Playwriting Award, and is a proud member of the Dramatists Guild of America.  
VICTORIA KING (Director) , Stage Director, directed the premiere & 6 performances of Persis Parshall Vehar's commissioned opera Pushed Aside: Reclaiming Gage with Society for New Music. Previously she directed Steve Stucky's The Classical Style opera, Michael Torke's Strawberry Fields, the premieres of Sundance, and How Music Came To Earth, Wind in the Willows, Sorcerer's Apprentice, performed in the premiere of The Ugly Duckling, and stage managed the premiere of Eleanor Roosevelt, as well as designed lights for Vision of Sound several seasons, all for SNM.  She holds an MFA from the Actors Studio Drama School where she studied directing with the late great Arthur Storch, acting with the late Elizabeth Kemp and voice with Dr. Christopher Arneson.
HEATHER BUCHMAN (Conductor) is director of the Hamilton College Orchestra & Chair of Music. She holds degrees from Juilliard, U. of Michigan, and Eastman. She was Principal Trombone of San Diego Symphony from 1988-1997 and won prizes at ARD International Comp. and NY Phil Young Artists Concerto and Competition.  She has conducted Symphoria concerts, at Interlochen, and premieres of several operas for Society for New Music, among numerous others.
SAR STRONG (Pianist) is well known as both a soloist and a collaborative pianist. For over 30 years, he has performed with many international artists as well as multitudes of first-class musicians who live and perform in upstate NY. He has soloed with the Utica Symphony, Hamilton College Orchestra, and Symphoria, and he frequently performs with SNM, CMM, Skaneateles Festival, Oasis Center of Syracuse, Hamilton College, Utica College, Mohawk Valley CC, and the Walker Series (Concord, NH). Mr. Strong is a Lecturer in Piano and Coordinator of Staff Pianists for Hamilton College, where he has taught since 2001. He previously taught at Colgate and Syracuse U. He holds degrees from Knox College and Syracuse Univ. Sar recently had eight CDs recorded with clarinetist/ saxophonist Ron Caravan released on Mark-Naxos.
NOA De ROSA ANDERSON (Soprano) will be in the 10th Grade at Fayetteville-Manlius HS. She has appeared in musicals and dance programs with Manlius Musical, Eagle Hill MS, Syracuse City Ballet, Syracuse Children's Theater, and Red House in such shows as Matilda the Musical, Little Mermaid, Nutcracker, Aladdin Kids, Madagascar, Annie Jr, Mulan Jr, Romeo & Juliet, Oz! Jr., and more. Noa studies ballet, modern, musical theatre and contemporary dance at Ballet and Dance of Upstate NY, and studies voice with Victoria King. In 2020 she was given an Award of Excellence by the NYS Theatre Education Assoc., a Silver Medal in the National French Exam, and in 2019 an Honorable Mention in the Hal Leonard Vocal Competition.
SONYA HINES is an accomplished composer and vocalist. Her vocal genre ranges from gospel and jazz to classical. Her much anticipated debut Christian music CD, produced by John Stoddart, entitled "Rainbow" will be released in July 2021. Sonya also has had a successful singing career in Washington, D.C. for 8 years performing and recording with Jazz artist Lonnie Liston Smith, Dexter Wansel, Jean Carne, Phyllis Hyman and R&B vocalist, the late, Renee Diggs and Billy Paul. Sonya also performed in "No Coward in Our Band," produced by Syracuse Opera, a production of "The Wiz" and "Little Shop of Horror." She is the wife of Dr. Bill Hines and has three sons: Ethan, Drew and Seth.
JESSICA D. MONTGOMERY (Soprano) has performed in the U.K. and Ghana, and was a finalist in the 2019 Civic Morning Musicals Statewide Vocal Competition. Currently, she is a dual Master's student studying Vocal Performance and Voice Pedagogy in the Setnor School of Music at Syracuse University, where she was named the winner of the Patti Thompson-Buechner Award. Previously Jessica coached with Assistant Conductor Caren Levine from the Metropolitan Opera. She serves as the Province Officer of Sigma Alpha Iota International Music Fraternity and is a member of Opera America.
GREGORY SHEPPARD (Bass), a Syracuse native, has been heard in principle roles with opera companies throughout the U.S., including San Francisco, NYC Opera, Dayton Opera and countless others. In concert he has sung Beethoven's Ninth, Verdi Requiem , Mozart's Requiem and Judas Maccabaeus.  He has also soloed with the Queens Symphony, Denver Symphony, Sioux City Symphony, Syracuse Symphony, American Symphony, Orchestra of St. Luke's, Illinois Symphony and Little Orchestra Society.  His appearances abroad include Germany, Austria, Finland, Italy, Costa Rica and London.  Greg is the winner of many prestigious awards including a Metropolitan Opera National Council Award and Study Grant.  He premiered Persis Vehar's opera Pushed Aside: Reclaiming Gage with SNM, plus repeat performances.
STEVEN STULL (Baritone) has appeared with SNM in Persis Vehar's opera about Matilda Joslyn Gage, Pushed Aside: Reclaiming Gage, Stucky's opera The Classical Style, Dianne MacDowell's Wind in the Willows, Torke's Strawberry Fields, and in premieres of Vehar's Eleanor Roosevelt and Brent Michael Davids' Purchase of Manhattan. His 60 performances with Symphoria and Syracuse Symphony include nine productions with Syracuse Opera. He has been a soloist with the West Virginia Symphony in nearly eighty performances and can be heard in their recordings Home for the Holidays and Tales from the W. Virginia Hills. Recent performances include narrating Copland's Lincoln Portrait and the Dr. Seuss story, The Sneetches with the Rochester Philharmonic, and Curly in Oklahoma! with Triphammer Arts.
DANAN TSAN has been featured soloist for Symphoria's Holiday Pops and the mezzo soloist for many oratorios, including Handel's Messiah, Bach's Mass in B Minor, and Lily Boulanger's Psalm 80. Roles with SNM include Participant I/Schumann in Stucky's The Classical Style opera, Daughter in Torke's Strawberry Fields, and Sorcerer in Carmen Moore's Sorcerer's Apprentice.  Danan has also sung Maddalena in Rigoletto at Oswego Opera, Charlotte in A Little Night Music and Aldonza in Man of LaMancha with Syracuse Opera. She earned her BM in Vocal Performance at Southern Methodist University and Master's & Performer's Certificate in Vocal Performance and Literature at Eastman.
DR. JACQUE TARA WASHINGTON is a licensed clinical social worker holding a Doctor of Clinical Social Work degree from the Univ. of Pennsylvania and a MA Social Work degree from Syracuse University; she has been practicing in the field since 2005. Jacque is also a professional vocalist and actress with a BFA degree in musical theatre and directing from Syracuse University, and is a member of Actors' Equity and the Screen Actors Guild-American Federation of Television and Radio Artists. Jacque portrayed Sidney Sorrell in the feature documentary Civil Warriors. Other acting achievements include her portrayal of Billie Holiday in Lady Day at Emerson's Bar & Grill; her self-penned one-woman show on the life of Holiday, entitled Billie's Diary, an appearance in Spike Lee's Malcolm X; as Berenice in Member of the Wedding; as Little Buttercup inH.M.S. Pinafore; and Peter's wife in Porgy and Bess. Jacque has also created Strange Fruit: Examining the Impact of Racism in America and has performed jazz across the US and globally.
Society for New Music
Based in Syracuse, NY, the Society for New Music commissions, performs, and records music by regional composers, catalyzes artistic connections across Central NY, and expands the audience for new music.  Initiatives include a winter season of concerts including the Vision of Sound new music with dance program, Cazenovia Counterpoint festival which features the Young Composers Corner, Israel/Pellman Prizes (2 young composers), composers in the public schools, Outreach programs at VAMC, Golisano & Upstate Cancer Center, Rising Stars POP-UP concert of music by HS & college composers, & the weekly 'Fresh Ink' radio program on WCNY-FM & its affiliates and streaming online.
Friday, August 20 @7:30 pm
Saturday, August 21 @7:30 pm
Sunday, August 22 @5:00 pm
FREE ADMISSION
Franklin Stage Company is an admission-free theater that depends on the generosity of our audience and donors—any amount is appreciated!