Professional theater of the Great Western Catskills!
Kwaku Kwaakye Obeng & Gino Sitson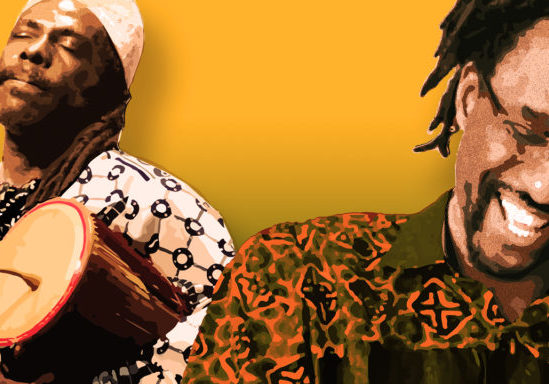 Kwaku Kwaakye Obeng & Gino Sitson
Master Drummer and Singer from West Africa
Ghanaian master drummer Kwaku Obeng and Cameroonian vocal virtuoso Gino Sitson join for an evening of traditional and contemporary music. Both of these renowned music makers are pioneers of a new generation of multi-culturally influenced African musicians, integrating their own exciting mix of "in-between" living experiences (north/south, traditional/modern, 20th/21st century) into their musical styles, combining jazz, gospel, blues and traditional African polyrhythms and melodies in exciting, innovative ways.
Kwaku Kwaakye Obeng is pure rhythm from start to end.
—All About Jazz
One of a kind, a recording that unfolds one well-paced beat at a time, the sturdy percussive foundation of an enduring piece of work.
–Michael Stone, RootsWorld
Sitson is a stunningly versatile vocalist with a cunning imagination and a seemingly endless capacity to create colorfully layered vocal sounds…his music has evolved into a magical blending of traditional elements from his native land and the urban swing of New York…the results are consistently compelling — producing more fascinating results with each hearing.
–Don Heckman, Los Angeles Times
A master of vocal manipulation.
—Laurel Graeber, NY Times
Kwaku Kwaakye Obeng (KKO) Playing with lightning speed and effortless power, KKO takes his audience on a journey that bridges cultures and creates connections.  One of the distinct features of his playing style is his ability to produce beautiful melodies and textures on drums and other percussion.  KKO's music is also marked by the tight intertwining of traditional patterns with original rhythms and melodies, which results in a outpouring of unexpected sounds.  He has released four recordings of his own compositions and arrangements of traditional pieces: Awakening, Sunsum (Spirit), Afrijazz, and Africa Moving Forward.  Afrijazz was produced with support from the American Composers Forum, the McKnight Foundation, and the National Endowment for the Arts.  KKO has also played on a long list of other recordings, including The Othertet (with Taylor Ho Bynum, Bill Lowe, and Joe Morris), Some Day Catch Some Day Down (with Talking Drums in 1989, re-released in 2011), Roy Hargrove's Hard Groove, Wadada Leo Smith's Lake Biwa (along with Marc Ribot, Susie Ibarra, Craig Taborn, and John Zorn), Active Resonance with Bootsy Collins and Bill Laswell, Jay Hoggard's The Right Place, Dan Zanes and Friends' forthcoming CD, and the compilation Africa Never Stand Still.  He composed the soundtrack for two documentary films: New England and the Civil War for Connecticut Public Television and Kings Must Dance for The Brooklyn Arts Council.
KKO has performed at a range of venues and festivals including the World Festival of Black Arts and Culture (Dakar, Senegal in 2011), Lincoln Center Out Of Doors, Newport Jazz Festival, Schomberg Center for Research in Black Culture, Village Vanguard, The Jazz Gallery, The International Festival of Arts and Ideas, Sweet Basil, The African Heritage Festival (Bahia-Salvador, Brazil), St. Lucia Jazz Festival, International Festival of Art (Puebla, Mexico), The One World Living Arts Festival (New Zealand), Odwira Festival (Ghana), The Flynn Theater (Burlington, VT), Toad's Place (New Haven, CT), and the Black Repertory Theater (Providence RI).  He has shared the stage, and collaborated, with such luminaries as Max Roach, Ed Blackwell, Roy Hargrove, Jay Hoggard, Randy Weston, and Anthony Braxton.  KKO has served as a faculty member at Brown University and Wesleyan University.  He also taught workshops and masters classes at Rochester Institute of Technology, Boston College, NYU, Yale University, and Bryant University, among many other institutions.
Gino Sitson Award-winning, New York-based vocal virtuoso Gino Sitson is originally from the Bamiléké region of Cameroon, Central Africa. His family comes from a long line of musicians known as Ntontas ("players of horns") and his mother is a vocalist and choir director. He and his siblings were introduced to blues, jazz and African traditional music early in life. His daring musical project combines in a most innovative way jazz, gospel, blues and traditional African polyphonies, polyrhythms and melodies. By freely combining his trademark vocal acrobatics with a breathtakingly creative command of oral and body percussions and miscellaneous effects, Mr. Sitson forged an eloquent vocabulary capable of communicating far beyond any limits of language or custom. Through his vocal wizardry, he stunningly creates an endless range of sounds and atmospheres. Sitson's seamless four- octave range travels from a soulful, resonantly masculine tenor with woodwind-like overtones to a high-soaring, nearly genderless spiritual wail, a feat that recalls Brazil's Milton Nascimento, another deep-rooted yet restlessly protean, jazz-inflected shape-changer.
Gino Sitson's four-octave vocal range plus his skills as a composer and arranger put him in high demand for recording sessions and for commercials and radio / television jingles (Danone, Dim, Peugeot, Vahiné, etc). The versatile young vocalist performed in a musical and co-composed part of the music (Jeanne et le Garçon Formidable). He has laid down tracks or shared the stage with Manu Dibango, Ron Carter, Papa Wemba, Wally Badarou, John Scofield, Geri Allen, David Gilmore, Haruko Nara, Bobby McFerrin, Frank Wess, Ray Lema, Craig Harris, James Hurt, Antoine Roney, John William, Mario Canonge, Wallace Roney, Brice Wassy, Oliver NGoma, Exile One, Steve Potts, So Why? (Featuring Youssou NDour, Papa Wemba, Wally Badarou, Jabu Khanyile & Bayete, Lourdes Van-Dunem, and Lucky Dube) and La Compagnie Creole, among others. In 2008, Mr. Sitson was invited by Bobby McFerrin to take part in a special project that took place at the Carnegie Hall ("Instant Opera"). He appeared in the 2009 PBS documentary film "The Music Instinct: Science and Song", featuring Bobby McFerrin, Daniel Levitin, Oliver Sacks, Daniel Barenboim, and Yo-Yo Ma. A member of Chamber Music America, he is regularly engaged for movie scores and commercials. He has also appeared several times on TV and also composed music for the noted children's TV show, Dora The Explorer (Nickelodeon).
Since 2006, Mr. Sitson is a Cultural Arts ambassador for the city of Miami (Florida). Meanwhile, his international career continues apace. He has received the "Parents Choice Silver Medal Honor Award" in 2004 and was nominated for the RFI Awards 2000 (Finalist "Découvertes RFI" 2000). His recent output includes soundtracks to Betrayal (Kevin Ngooh), Blue Lotus (Dayo Ayodele) and Koming from Afrika (Blaise-Christian Sitchet); jingles for France Television and France 3. Mr. Sitson performed at the Carnegie Hall with his own group in 2008. Aside from musical performances, Gino leads vocal workshops served by his amazing vocal technique, his musical knowledge and his desire to share his love for vocal explorations. Gino has developed workshops for professional as well as non-professional singers, and also for children. A researcher in musicology, his work focuses on music cognition, expressive properties of the voice and the process of transmitting music from the "black" diaspora. Among them, he is particularly interested in Gwoka music from Guadeloupe. Mr Sitson earned a PhD in musicology at the Paris-Sorbonne University. He is a UNICEF CAMEROON Goodwill Ambassador and an Associate Researcher at IReMus (Institut de recherche en musicologie: Paris-Sorbonne, CNRS, BnF, Ministère de la culture).
Friday, July 9 @7:30 pm
Saturday, July 10 @7:30 pm
Sunday, July 11 @5:00 pm
FREE ADMISSION
Franklin Stage Company is an admission-free theater that depends on the generosity of our audience and donors—any amount is appreciated!