Professional theater of the Great Western Catskills!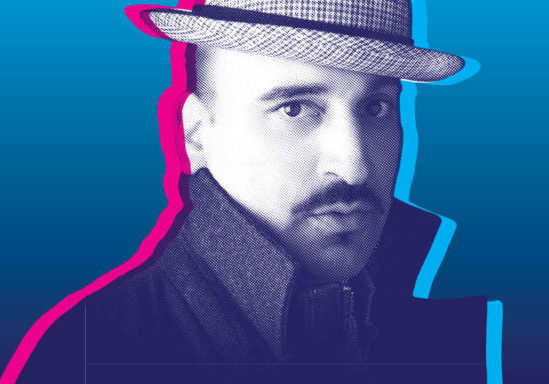 He's back!! Longstanding member of the Franklin Stage family, singer/songwriter Julian Fleisher brings his band back to Chapel Hall for an evening of songs gathered along the unexpected detours during a career that has ranged all over the musical map. New songs sound familiar, classic tunes feel fresh but all roads lead back home when the main one is closed — but the alternate route turns out to be The Yellow Brick Road.
With:
Drew Wutke – Piano
Sean Murphy  – Bass
Pete Smith – Guitar
Dave Tedeschi – Drums
"Fleisher is one of New York's treasured talents."
—Culture Craver
"Fabulously written and performed."
—Acoustic Nation
"With a velvety voice reminiscent of Mel Tormé and an ability  to deliver like Sammy Davis, Jr, Fleisher's performance abilities play as much of a star role as his songwriting."
—Guitar World
Julian Fleisher is a genuine multi-hyphenate, a polymath, the kind of restless creative spirit that people used to call a Renaissance Man. "I think that term went out with EST and HR Puffenstuff," he offers. "So, I'm not certain it's the word I would use, but…" But if the shoe fits.
Singer-songwriter-bandleader-producer-actor-former-writer, though? Isn't that a bit much? "Yes," he replies. "So I usually just go with whatever's on the front burner at the moment. The trouble is I have the curiosity of stubborn alley cat and I get bored pretty fast. I'm rarely content just to enjoy something. Enjoying a thing means I have to try that thing. And trying it means banging away until I've done it — and done it well enough that it's not embarrassing." Which, he admits, can take years. "I've got time, though," he muses. "And, New York is nothing if not lousy with new things to try."
Fleisher came to New York from his native Baltimore via New Haven, where he was an undergraduate at Yale along with the likes of Paul Giamatti, Jennifer Connelly and Ed Norton. They got famous. The son of world-renowned concert pianist Leon Fleisher, Julian was first heard as a boy soprano, a student of the classical repertoire at his hometown's prestigious Peabody Conservatory of Music. After his four-year stint at Yale—where he sang in concerts, with á cappella singing group Redhot & Blue and on stage in roles ranging from The Threepenny Opera's Mack the Knife to Guys and Doll's Sky Masterson—Julian took on New York.
There, his love of singing unencumbered by the demands of playing a role led him out of the theater and into the nightclub. where his wide embrace of all corners of the pop songbook, his barn-burning Rather Big Band and a fresh and irreverent performance style garnered him rave reviews and comparisons to predecessors as diverse as Sammy Davis, Jr., Mel Torme and Lenny Bruce. Along the way, he continued to intersect with other creative types as a producer, curator, and bringer-together of makers-of-things. For the record, he also wrote a whole bunch of books, including the "Smart Series" of grammar- and vocabulary-building audio books from Random House and The Princeton Review as well as The Drag Queens of New York: All Illustrated Field Guide (Riverhead), a semi-trade discourse on the cultural history of drag in NYC.
His regular gigs at such stalwart New York venues as Joe's Pub, Lincoln Center, BAM, Symphony Space, The 92nd St Y and The World Trade Center's Winter Garden led him naturally to start writing his own songs and to collaborating with a host of partners both on and off the stage. Between his concerts, the recording studio, the theater and his popular podcasts The Naked American Songbook and  Julian Fleisher's Guilty Pleasures, Julian has recently sung, written, gigged, produced or appeared with, among others,  Molly Ringwald, Martha Plimpton, Issac Mizrahi, Jennifer Holiday, Lauren Graham, Ana Gasteyer, Nellie McKay, Rufus Wainwright, Mo Rocca, Bridget Everett, Paul Schaefer, Keith Carradine, Joshua Malina, David Rakoff and even Sally Field.
Sean Murphy  – Bass
Sean Murphy is a bassist living in NYC who has performed with artists such as Ana Gasteyer, Christina Bianco, Natalie Joy Johnson, and Julian Fleisher. Recent sub credits: Shucked, New York, New York, A Beautiful Noise, 1776, Radio City Christmas Spectacular. National Tours: Finding Neverland, Beauty and the Beast. Off-Broadway: ¡Americano!, Felix Starro. Regional: Evita and Camelot at Bay Street Theatre, La Cage aux Folles at Riverside Theater, Holiday Inn at Paper Mill Playhouse. Sean is also a huge tech geek and loves photography.
Pete Smith – Guitar
Pete Smith is a New York City-based guitarist who performs in a wide range of musical settings. As a founding member of Grupo los Santos, a vanguard Afro-Cuban and Brazilian-style quartet, he has played New York's Town Hall and concerts throughout the U.S., Cuba & Austria. He has performed at the Berlin Jazz Festival and Montreal Jazz Festival, as well as concerts in thirty countries throughout Europe, Eastern Europe, Africa and Asia. He has worked with Norah Jones, trumpeter Donald Byrd, Cuban trombone master Juan Pablo Torres, Andrew Hill, Kat Edmonson, Vince Giordano & the Nighthawks, the Moonlighters, Madeline Peyroux, Natalie Merchant and Huun- Huur-Tu, and is a member of Michael Feinstein's Jazz at Lincoln Center Orchestra. New releases to look out for are Santos' fourth album "Santos 4" and an album with bassist Sean Smith (The Smith Duo).
Drew Wutke – Piano
One of NYC's most in-demand multidisciplinary artists and music directors, Drew continues to play and music direct all over the world (including B'way/Off-B'way/Intnl/Regionally/on Tour/in Backyards/on Zooms), creating at the piano, studio, screen, or stage alongside Tony, Emmy, and Grammy winners. After almost a decade of working in music and theatre departments at universities in Indiana and Oklahoma (and, incidentally, as a worship arts pastor), Drew traded in cornfields for concrete, working as a music director and starting a private premiere coaching studio in NYC for over another decade.  He hails from Girard, Kansas, where his parents were teachers and coaches and his brother and sister-in-law have two amazing kiddos.
Dave Tedeschi – Drums
At the age of nine, after years of not being able to sit still during his piano lessons, Dave Tedeschi convinced his parents to buy him a snare drum. During those first few moments with his instrument, he distinctly remembers feeling a unique sense of excitement and, more than that, a sense of belonging. With time, dedication and the passing on of wisdom from many gifted teachers and mentors, Dave has been fortunate to turn his love for the drums into his vocation. Dave is very grateful to collaborate frequently with some of the most talented artists alive today including: Postmodern Jukebox, People Vs. Larsen (lead by Tom Larsen), Hannah Gill, Aubrey Logan, Casey Abrams, Scott Bradlee, Jesse Elder, Tim Kubart, Andy Stack, Jeremy Baum, Chris Vitarello, Latrice Royale, Camille Harris and Cape Francis. Along with live performances and recording opportunities, Dave finds a deep sense of joy in teaching private lessons and clinics to musicians of all ages. Special thanks to Zildjian, Vic Firth and C&C Drums for the generous support.
Friday, July 28 @7:30 pm
Saturday, July 29 @7:30 pm
Sunday, July 30 @5:00 pm
FREE ADMISSION
Franklin Stage Company is an admission-free theater that depends on the generosity of our audience and donors—any amount is appreciated!