Professional theater of the Great Western Catskills!
Horsetale by Hit the Lights! Theater Company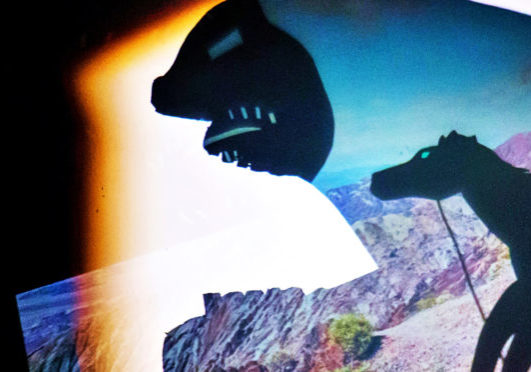 Horsetale by Hit the Lights! Theater Company
Written & Performed by Hit the Lights! Theater Company
HORSETALE is inspired by tall tales, looney tunes, and the soundscape of the American frontier, Hit the Lights! theater company presents an original shadow play that's as wild and beautiful as the west itself. HorseTale is a visual and aural treat full of wit, sass and the good Old West. HORSETALE was most recently performed at the New Victory Theatre in New York. FSC is thrilled to bring these inventive artists to the Western Catskills for the very first time for 3 nights only!
"New York's Hit the Lights! does all sorts of clever things with one of humankind's oldest art forms, shadow puppetry, creating theatrical magic with a screen, spotlight, some flashlights and small figures that grow intimidatingly large in shadow. It's eye-popping."
–St. Paul Pioneer Press

"Hit the Lights is a company that we need to see more of in this day and age: Brave, unique, creative and special."
–Minnesota Fringe Review

"The ethos of Hit the Lights! is collaborative and communitarian"
–Village Voice
Hit the Lights! Theater Co. is an award winning company created out of an artistic agreement to tell simple stories well, through unconventional ways. Using found materials, flashlights, and cardboard, HTL! specializes in the transformation of the ordinary into the extraordinary. HTL! also focuses on the interplay between darkness and light, utilizing shadow puppetry as the lifeblood of their storytelling. The company is comprised of five experienced multidisciplinary artists: puppeteers, actors, musicians, artisans, and everything in between.
Original works include DUNGEON (Audience Pick of the Fringe at the Cincinnati Fringe and Editors Pick at the Minnesota Fringe), WHALES (nominated for three Innovative Theater Awards including Outstanding Innovative Design, Outstanding Original Music and Outstanding Premiere Production of a Play), THE OTHER RHINE, a world premiere immersive theater experience (Know Theatre of Cincinnati), and ISLA, the newest show that recently had its first workshop at Dixon Place. HTL!'s Off-Broadway credits include their original performance of HORSETALE at Ars Nova's 2017 ANT Fest, La MaMa ETC Puppet Slam and most recently DUNGEON at Ars Nova One Night Stand.
Hit the Lights! is comprised of:
SAMANTHA BLAIN- Samantha has performed Off Bway, regionally and in numerous Broadway workshops. She's composed music for Shakespeare Theater of New Jersey's mainstage and apprentice program. She produced and toured in New England doing shadow puppetry, is a trained singer and musician: violin, ukulele, piano, accordion, glockenspiel. Samantha is an alum from Emerson College BFA Musical Theater and Atlantic Acting School. She is also a teaching artist and director in NYC.=
KRISTOPHER DEAN- CCM Acting, Kristopher has studied with the SITI Company and has performed across the country touring with Theatre Works and HTL! In NYC he has worked with New Wave Theatre Collective and has originated roles for emerging screenwriter and playwright Alec Silberblatt. As a teaching artist he has taught in schools and universities  across the country and is a resident Teaching Artist at the United Nations School in New York City. He is a proud member of SAG-AFTRA and AEA.
CLARON HAYDEN-  A singer, songwriter, multi-instrumentalist, actor, and producer. Claron graduated with a BFA in acting from the University of Cincinnati's College-Conservatory program. He has been featured in multiple short films and has played several prominent roles in off-Broadway and regional plays. He has trained under Studio 6, Anne Bogart, The Hangar Lab, and many more. He plays electric guitar, bass and piano. Claron is the co-founder and executive of 9th Path Productions, a boutique record label and production company. He released his first album NO TVs through 9th Path in December of 2017.
CASEY SCOTT LEACH- A multi-disciplinary performing artist and teacher.  He studied acting at Cincinnati College Conservatory of Music (CCM) Drama, and did intensive studies in performance and devised theater with SITI Company and Theater Mitu. Casey was the Company Manager for Artistic Abandon NYC, where he co-wrote, co-produced, and performed in their dance-theater hybrid the Blue Jar.  Casey co-created the band Go Home, and co-created and produced the online comic Soft Reset from 2010-2015.  He studied at Columbus Conservatory of Art and Design (CCAD) and is delighted by placing non-theater forms and ideas in theatrical contexts, as well as overhead projector puppetry, stage combat, and short-form animation.
MIKAYLA STANLEY- Is a multi-disciplinary artist and teacher. She received her BFA from Cincinnati College-Conservatory of Music, and has also studied with SITI Co., Theater Mitu, Labyrinth Theater, and The Great Globe Foundation. She was the co-founding artistic director of Artistic Abandon, a theater company that works to provide platforms for early career artists in New York City, where she was also the lead producing director. Her teaching credits include Alba-Emoting, Dels Arte, Puppetry and Devised Theater.
Friday, July 5 @ 7:30 PM
Saturday, July 6 @ 7:30 PM
Sunday, July 7 @ 5:00 PM
FREE ADMISSION
Franklin Stage Company is an admission-free theater that depends on the generosity of our audience and donors—any amount is appreciated!