Professional theater of the Great Western Catskills!
Bricktop, Legend of the Jazz Age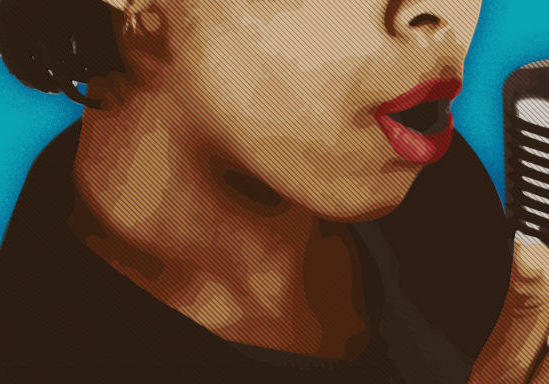 Bricktop, Legend of the Jazz Age
By Cathey Sawyer
Musical Arrangements by Kermit Medsker
Directed by Rodney S. Hudson
Music Direction by Timothy Iversen
Creative Contributions by Gabrielle Lee (AEA)
Featuring Gabrielle Lee as Ada "Bricktop" Smith
An FSC Production
Produced with express permission by Yellow Rose Productions, LLC.
Bricktop, Legend of the Jazz Age was originally produced in 2018 by Greenbrier Valley Theatre. It was written and directed by Cathey C. Sawyer; Musical arrangements by Kermit Medsker; Creative contributions by Gabrielle Lee; Scenic Design by Richard L. Crowell; Lighting Design by E. Tonry Lathroum; Costume Design by Jenna Faun Brown. The production stage manager was Elizabeth Salisch. 
Ada "Bricktop" Smith has been called "one of the most legendary and enduring figures of twentieth-century American cultural history." In this new play with music, Bricktop tells her own story through memory and music using songs from her long life as a singer, dancer and club owner. Bricktop is the story of jazz, of African-Americans in performance, of racial relations, and of Paris before and after WWII. Bricktop recounts her humble beginnings in Alderson, West Virginia through her career as a cabaret performer and club owner that took her around the world, made her the companion of royalty, a favorite of writers and musicians, and the "Doyenne" of café society in Paris.
What legs! What legs!
–Cole Porter
CATHEY C. SAWYER (Playwright) recently retired from a 30-year tenure as Producing Artistic Director of the Greenbrier Valley Theatre (GVT) in Lewisburg, WV.  She led the theatre from a summer-only non-professional theatre housed in a temporary barn facility to a state-of-the art year-round professional theatre, which is currently the State Professional Theatre of West Virginia. As a theatre artist, she is a member of the Society of Directors and Choreographers and has directed over 250 plays professionally. Before moving to West Virginia, she held Associate Director/Resident Actor posts for Arkansas Repertory Theatre in Little Rock, Arkansas, New Stage Theatre in Jackson, Mississippi, and American Stage Theatre in St. Petersburg, Florida and was the Resident Director for Playhouse on the Square in Memphis, Tennessee.  She is also a member of Actors' Equity Association and as an actor she has worked on stage and in film and television. This summer she will perform as Pearl S. Buck in a one-woman play written by Valerie Harper and Dyke Garrison titled All Under Heaven. She is the vocalist for the WV Jazz Orchestra and a member of the American Federation of Musicians Local 674. As a writer, Cathey is a member of the Dramatists Guild of America. In addition to Bricktop, she adapted and wrote lyrics for an original musical adaptation of A Christmas Carol; created a musical adaptation of Babes in Toyland; co-authored Stories of Mountain Railroads, which chronicles the building of railroads in Appalachia, and wrote the book and lyrics for The Greenbrier Ghost, a musical about the true case of a man convicted of murder based on the testimony of a ghost. 
She is a recipient of the Governor's Award for Artistic Excellence, the Order of Arts & Historical Letters Recognition from the WV Division of Culture & History and was awarded the Governor's Award for Lifetime Achievement in the Arts. Cathey holds a Master of Arts degree in English and a Master of Fine Arts in Theatre. She dedicates Bricktop to her late husband, Dr. Joe B. Buttram and her friend and advisor, Ellis Marsalis, Jr.
The Company
ADARA ALSTON (Assistant Director) is delighted to be working with Franklin Stage Company again after performing as Mrs.Muller in Doubt: A Parable and performing the Henry V prologue in the 2020 Soliloquies at Chapel Hall series. Some recent credits: Men On Boats (Chenango River Theatre), Fences (Redhouse Theatre), The Skin of Our Teeth, An Odyssey, and The Inferior Sex (Hangar Theatre), Pericles: Prince of Tyre and A Midsummer Night's Dream (Ithaca Shakespeare), and The Fan, And What Happens If I Don't, and Trapdoor (Cherry Arts). Her last directing effort was Doubt: A Parable at Elmira Little Theatre. Adara also currently hosts the arts and entertainment program Expressions on WSKG-TV (PBS).
GRANT CROWSON (Stage Manager) is a student in stage management at Ithaca College. Grant has been involved with local theatre in many ways through his work at Cooperstown High School and work with area theater companies. He focuses on stage managing but also enjoys set building, lighting design, and everything in between. He is very excited to work with FSC this summer and looks forward to building relationships with the entire company! 
SCOTT HOLDREDGE (Set Design/Lighting Design/Technical Direction) is excited to be back with FSC this summer. He is a full time faculty member and design program coordinator at SUNY Cortland in NY. He recently returned to Anchorage Opera as Lighting Designer for Tosca.  As a response to Covid protocols at Franklin Stage Company, he designed and built an indoor and outdoor stage for last year's season, including African drummer Kwaku Kwaakye Obeng, Dr KABOOM! and A Doll's House Part 2. His designs for SUNY Cortland have included; Company, Lysistrata, Head Over Heels, Curious Incident of a Dog in the Night-time, The Children's Hour, Dangerous Liaisons, Annie Get Your Gun, 9 to 5, Top Girls and Little Women. At Cortland Repertory Theatre, he has designed productions of Footloose and The Velveteen Rabbit. He has also worked for Syracuse Opera, Syracuse University, and a few area high school theatres as a set/lighting designer and technical director. Scott's work has been seen in New York City, Los Angeles, Alaska, and San Diego across the genres of theatre, corporate events, theme parks, haunted houses and film.
RODNEY S. HUDSON (Director) is pleased to direct BRICKTOP for the Franklin Stage Company. He has performed as a professional actor/singer for more than 45 years. He has performed as a vocal soloist for seven major orchestras, including the St.Louis Symphony, the Minnesota Orchestra, the Houston Orchestra, and the Phoenix Symphony. He was a member of the Syracuse University Drama Department the past 26 years. He is slated to direct the World Premier of a new Kyle Bass play, TENDER RAIN, for Syracuse Stage next spring. 
TIM IVERSEN (Music Director/Piano Player) is the Jr./Sr. High School Chorus Teacher for the Cooperstown Central School District, where he also oversees the musical theatre program. He has worked on well over one hundred musicals with student, community, and professional theatre groups as a music director, director, vocal coach, accompanist, and pit orchestra musician. Tim plays with the Old Masters Jazz Ensemble and sits in frequently with other jazz, blues, and rock groups in the area.  He is also the organist and choir director for the First Baptist Church of Cooperstown.
DEMITRI JAROMACK (Assistant TD) is a local artist, writer, and filmmaker and a long time friend of Franklin Stage Company. After 2 years as an intern at FSC, and a short break, he has returned to assist with technical direction in 2022. Demitri is excited by the harmony of community-based centers for the arts, and he is elated to be fortifying his knowledge of carpentry, as well as the inner workings of theater.
GABRIELLE LEE (Bricktop) most recently wrote, produced, and starred in her Blackbird Legends Cabaret series, (a production of shows developed to acknowledge, introduce, honor, keep alive the entertainment contributions of early 19th-20th Century African American Artists). Her latest development, A Tin Pan Alley Black History Celebration, recently debuted at Feinstein's 54Below for Black History Month to rave reviews. Gabrielle holds title roles in Broadway National and Europe tours, Off-Broadway, and Regional Theaters which include: Intimate Apparel, the world premiere of Bricktop: Legend of the Jazz Age, Little Shop of Horrors, All Night Strut (Broadway World Award Winner), Her Song (Broadway World Award Winner), Once on This Island, Beehive, Smokey Joe's Cafe, Showboat, Ain't Misbehavin, and Dreamgirls. Television Guest Star: Bull, FBI, God Friended Me, Madam Secretary, The Affair, Difficult People, Law & Order. Film: HBO nominated- 27 Candles, Marci X, Double Platinum. As a vocalist Gabrielle has worked with among others, the New York Pops, Cab Calloway Orchestra, Ray Charles Orchestra, Harry Belafonte, Natalie Cole, and Steely Dan. She is a recurring show jazz Guest Artist globally and Guest Headliner for world cruise lines. Gabrielle is a graduate of the University of Memphis (BFA), The William Esper Acting Studio where she studied with master teacher William Esper, and is a Eugene O'Neill Theater Center performance scholarship award recipient.
KERMIT MEDSKER (Musical Arrangements) was the resident Music Director at Greenbrier Valley Theatre from 2013-2020. His music directing credits at GVT include Bricktop: Legend of the Jazz Age, Babes in Toyland, a new adaptation by Cathey Sawyer and himself; also Pippin, Jesus Christ Superstar, Beehive!, Chicago, Stand By Your Man:The Tammy Wynette Story, Lucky Stiff, Man of LaMancha and Smokey Joe's Café. As an actor, he has been seen onstage as Morten Kiil in An Enemy of the People, as Dr. Chasuble in The Importance of Being Earnest, Herod in Jesus Christ Superstar, Ira Stone in Laughter on the 23rd Floor and Firs in The Cherry Orchard. Directing credits include Every Christmas Story Ever Told and Then Some, Veronica's Room, Moonlight and Magnolias. Before the stint at GVT, he directed and music directed Into the Woods at Rhodes College in Memphis, TN, which won the Ostrander Theatre Award for Best Musical in the College Division. He was the music director for [Title of Show] at Theatre Memphis, and for Sister Myotis' End Times Hootenanny at TheatreWorks in Memphis. At present, he is employed at Graham's Lighting in Memphis, awaiting the next theatre gig.
FELIPE PANAMÁ (Choreographer) is a dancer, teacher, choreographer, and visual artist. He teaches ballet, jazz, and contemporary as part of the musical theater faculty at Syracuse University. Mr. Panamá has been a soloist and ensemble dancer for Syracuse City Ballet, Ballet San Antonio, Brooklyn Ballet and Ballet de Jalisco. /@_felipepanama on Instagram.
KATHARINE TARKULICH (Costume Designer) is delighted to be designing for Franklin Stage Company. Favorite regional designs: Mamma Mia; Cortland Repertory Theater, Cortland NY; Oliver!, Much Ado About Nothing, The Importance of Being Earnest, The Color Purple; The Redhouse Arts Center, Syracuse NY; Taking Steps; Abigail's Party, Odyssey Theatre; Hay Fever; School for Scandal; Crimes of the Heart, Little Fish Theatre, San Pedro, CA; Woyzeck, Gangbuster's Theatre (2009 participant in NYC Fringe Fest.), Burbank, CA; Assassins; The Cannibals, Cal Rep, Long Beach, CA.
Thurs–Sat @7:30 pm
Saturday Matinee @3:00 pm
Sunday @5:00 pm
FREE ADMISSION
Franklin Stage Company is an admission-free theater that depends on the generosity of our audience and donors—any amount is appreciated!