Professional theater of the Great Western Catskills!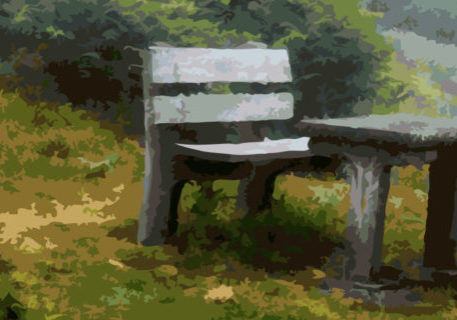 Directed by Kirk Jackson
Featuring: Leslie Noble and Robert Zukerman
Set in the midst of the Cold War, Lee Blessing's powerful and startling play dramatizes a stand-off between a U.S. and Soviet arms negotiator as they battle for supremacy. Full of tension and humor, A Walk in the Woods shows how the relationship between the two experts evolves as they stroll in the woods above Geneva, away from the glare of the negotiating table. But will this escape lead to a true breakthrough or just more posturing? Although set during the cold war, Blessing's examination of Russian-American relations is preciently relevant, and his characters, a palpable reminder of the human need for connection, particularly when agreement seems unattainable.
Bianca Boller (Stage Manager) is a Queens-based stage manager who recently finished an apprenticeship at The Juilliard School. During her time there she worked on a number of plays, dance shows, and an opera.  Her other credits include This Day Forward (Vineyard Theatre), Where Did We Sit on the Bus? (Ensemble Studio Theatre), Alexander Who's Not Going to Move (Two Beans Productions), New Kid (Syracuse Stage) and P.Y.G.(New York Theatre Workshop).  Bianca is happy to working at Franklin Stage Company for the summer.
John Czajkowski (Technical Director) has been working in the entertainment industry for 15+ years and is the Technical Director at Le Moyne College in Syracuse, NY. He has held positions in technical direction and production management at the Redhouse Arts Center and Turning Stone Casino and Resort. John's background in scenic construction, properties, entertainment rigging, and lighting had given him the opportunity to work with an assortment of theatre companies in the Central New York area including Gifford Family Theater, CNY Arts, Merry Go Round, and Syracuse Stage. John is a member of the IATSE Local 9 Stagehand Union and earned his B.A. degree from Le Moyne College.
Jacob Glueckert (Sound Design) has had an interest in theatre from a young age, and is currently studying Sound Recording Technology at Ithaca College. Jacob is happy to be returning to FSC where he was an intern for five years, working everywhere from onstage as an actor in Prometheus, An Enemy of the People and King Lear, to the tech booth and scene shop. An avid drummer, Jacob is also part of the Ithaca-based jazz trio 27 Lives.
Kirk Jackson (Director) is happy to be back at Franklin Stage where he directed Tartuffe as well as several readings: Who's Afraid of Virginia Wolfe, The Night of the Iguana and Jane by S.N. Behrman. He's appeared in readings and plays over the years, including The Government Inspector, last summer.  With partner Oliver Wadsworth, he developed the one-man show The Tarnation of Russell Colvin at FSC, which went on to tour venues throughout southern Vermont, including the Dorset Theater Festival, and Hubbard Hall in Cambridge, NY. For Hubbard Hall, Kirk has directed several operas and plays, including Rigoletto, Gianni Schicchi, and The Book Club Play. Up next, Kirk and Ollie appear in The Three Sisters, at Living Room Theater, in the historic Park-McCullough House carriage barn in North Bennington, VT.  Faculty: Bennington College since 2001. MFA: Yale School of Drama. Thanks Pat, Leslie, and Robert for this wonderful opportunity.
Brian Jordan (Lighting Design) just finished his undergraduate studies at Le Moyne College in Syracuse N.Y. This is his first time as the Light Designer for Franklin Stage. He spent the past summer designing lights for Mountain Playhouse in Jennerstown, PA for their Summer 2017 Season. Credits include Church Basement Ladies: The Last Potluck Supper, A Comedy of Tenors, Moon over the Brewery, and Caught in the Net. In the fall Brian will be continuing his education at Northwestern University as an MFA student in Stage Design & Lighting. He hopes you all enjoy the show.
Krist McKay (Costume Design) is a native Central New Yorker with a rich and varied background in theater arts. She began her theatrical career as the resident costume designer for the Merry-Go-Round Playhouse in Auburn, NY, designing over 30 productions. In 1989 she took an administrative turn at Le Moyne College where she served 10 years as General Manager of the Coyne Performing Arts Center, as well as occasional costume designer, graphic designer, and campus-wide artistic consultant. Kristi is currently the Director of Administration at Solving Kids' Cancer, a Manhattan based charity.
Leslie Noble (Joan Honeyman) is Co-Artistic Director of FSC, where she directed The Price last season. She is a founding member of Gams on the Lam, a three-woman clown theatre ensemble that toured throughout North America and Europe. Leslie has acted and directed for several area theatres including Syracuse Stage, Geva Theater, and The Red House Arts Center. Favorite acting roles include Lady Croom in Arcadia, Amanda in Private Lives, Miep in The Diary of Anne Frank, and Prudy Pingleton in Hairspray. Leslie hails from Syracuse, NY, where she lives with her husband and 3 cats. She teaches clown technique and acting for the Syracuse University Department of Drama and can be heard nightly as the station voice of WCNY-TV.
Robert Zukerman (Andrey Botvinnik) is pleased to return to FSC where he played Gregory Solomon in THE PRICE. Since then, he's appeared in the 10×10 New Play Festival at Barrington Stage, and played Einstein in RELATIVITY by Mark St. Germain, at Penguin Rep (Stony Point, NY). He's performed in two dozen plays Off Broadway at such venues as The Atlantic, The Pearl, CSC and Theatre for a New Audience. Film and TV credits include IN BED WITH ULYSSES (with Kathleen Chalfant) and RENAISSANCE GARDENING (for Rhode Island PBS). He's narrated books for the Library of Congress and toured USAF bases in Greenland for the USO.
Preview, Thursday July 12
Thursdays–Fridays @ 7:30 pm
Saturday @ 3 pm & 7:30 pm
Sunday @ 5 pm
Talkback Fridays: following the shows on July 20 & 27
FREE ADMISSION
Franklin Stage Company is an admission-free theater that depends on the generosity of our audience and donors—any amount is appreciated!